Whether you are doing home repairs or for industrial projects, these 100 packs of premium cable ties are your best friend. Made of high-quality stainless steel material with good tensile strength that allows fixing or fastening wires, poles, pipes and more! Simply pull the cable tie through the self-locking clasp to provide a secure grip that won't loose once fastened. A true masterpiece that you can rely on!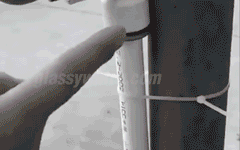 An effective binder, one piece construction that provides consistent performance and maintainability. Suitable to be installed even in extreme conditions and harsh environments, be it indoor, outdoor or even underground! Perfect for mining, automotive, home repairs, shipbuilding and more that requires fastening or securing.
Why settle for less when you can have this one piece construction to solve all your fastening problems!
FEATURES:

Self-Locking Mechanism
These cable ties are designed with an
easy to install, self-locking ball bearing head fastener.
Simply roll it over the pipes or wires and the tie will automatically lock into place once you pull through the clasp. A great universal zip tie that offers
unparalleled strength
and
allows to secure wires, cables, pipes and more without loosening after being fastened.
100 Reliable Metal Ties
Packs of
heavy-duty premium
fasteners to use!
Secure your wires, pipes
and more even in the most extreme temperatures and severe environmental conditions with these 100pcs of
fast, easy and reliable installation of cable ties!
A sure fastening that can last a lifetime.
Wide Application
A
multi-purpose metal locking ties
that can operate in limitless applications for about every
home and industrial uses.
Including
power stations, mining, petrochemical, shipbuilding, automotive, home repairs, garagetidyingand more endless possibilities! tidyingand more endless possibilities!


Premium Material
Made of
heavy-duty 304 stainless steel
that offers
increased strength and durability
than any other cable ties. Providing you an
excellent resistance to corrosion, vibration, radiation, weathering and extremes of temperature.
Perfect for bundling wires or pipes in hazardous areas, both indoor and outdoor.
SPECIFICATIONS:
Self-Locking Cable Ties
Weight: 200G
Size: 4.6 x 100MM / 150MM / 200MM / 250MM
Stainless Steel Cable Tie PliersMaterial:
SKD11 & TPR
Weight:
705G
Size:
29 × 17 × 5CM
PACKAGE INCLUDES:
100 x Pcs x Self-Locking Cable Ties
Or
1 Pc x Stainless Steel Cable Tie Pliers